The kitchen is one of the most exciting things to improve on and renovate. Even though built the best kitchen in the world when you first built your home, there will come a time when you can't help yourself but have it redesigned and renovated. Or maybe you find yourself buying a home and then realized you don't like the way the kitchen looks. Whatever the reason is, take these wonderful tips we found online on practical kitchen design ideas.
Before we go ahead and take a look at some remarkable images and samples, here's a quick set of reminders from Reader's Digest, in the article "Top 10 Kitchen Design Tips."
1. Think ahead.

When redesigning a kitchen, put function first, says interior designer Jacqui Hargrove. "There's no ideal kitchen shape," she says. "Whether it's a galley or U- or L-shaped, plan for the sink, fridge and cooktop to form a triangle, with no more than 6 feet between each for ease of movement."

2. Make room for storage.

"The biggest mistake people make at the planning stage is not allowing for enough storage," Jacqui says. "Use every nook and cranny. Put overhead cabinets right up to the ceiling, rather than leaving a gap on top that collects dust." Consider deep drawers for easier access to pots and pans, and include enough storage for appliances that otherwise would clutter up countertops.

3. See the light.

Unlike in other rooms of the house, overhead lighting is insufficient in kitchens, says electrician Richard Terode. "In the kitchen, you don't want the light behind you, casting a shadow on the workspace. You need it positioned to fall in front of you." He likes under-cabinet lights because they shine directly on countertops.

4. Power play.

Be sure there are appropriate power sources for relocated or new appliances. Many people realize too late that they don't have the right gas or electric lines, Richard says. Plumber Stuart McGroder also suggests measuring appliances to ensure that they fit comfortably into allocated spaces. "If a dishwasher is crammed in, it could push up against the hose and won't drain properly," Stuart says.

See the rest of this article by following the link.
Not a lot of people realize that a kitchen renovation project requires careful and meticulous planning. It's not just about exploring designs and getting excited about the output. Everything starts from scratch. If you want to succeed in this kind of project, make a plan and consider those four essential tips above.
So that's it. At this point, let's take some samples of very nice kitchen design concepts from several blogs online.
Starting with…
The kitchen above is Dutch-inspired, owned by Annie Brahler, who actually has some Dutch heritage in her. As you can see, the kitchen is highlighted by a stainless-steel range and an island which is actually a tweaked vintage demilune chest adorned with a marble top and cabinets.
In the same blog, we found another very attractive kitchen design, but this time, the theme is quite different and even opposite to the one we featured above.
The description says it's a horse stable transformed into a kitchen. That right there is a brilliant home improvement job!
Now how about this one?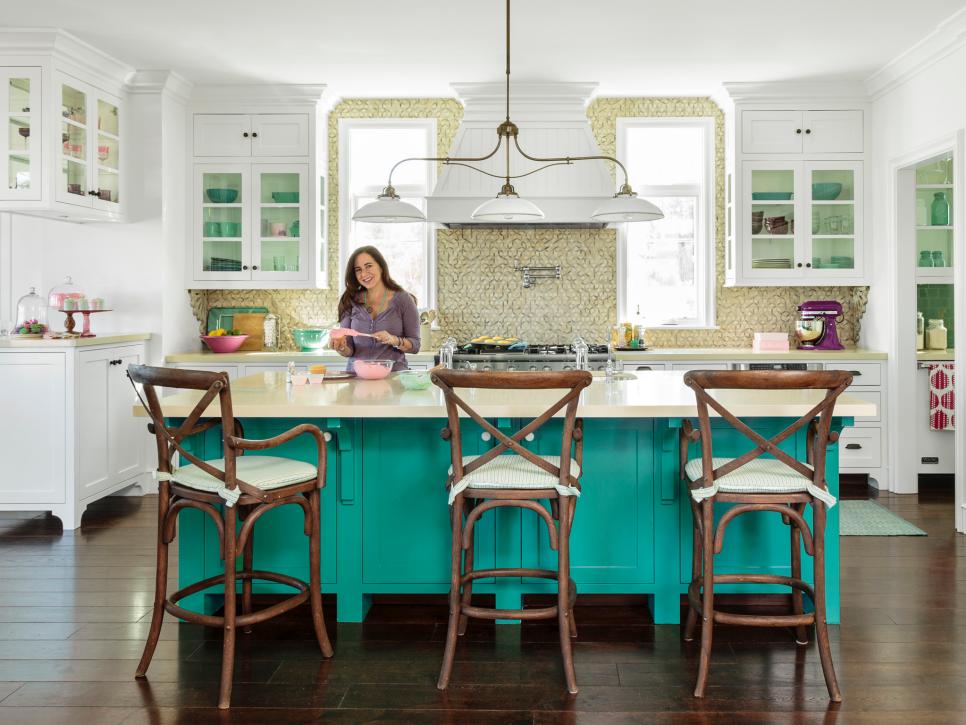 According to the blog post "50 White Kitchens That Are Anything But Vanilla," this kitchen design is fondly called "A Tropical Island" with a saturated turquoise shade and a kitchen island at the center. It's an all-white kitchen with some little twist in it.
So those are just some of the few designs we've come up so far. There's actually thousands of them online, but you don't have to try to copy them. The purpose is to get some ideas on how you would want yours to look.